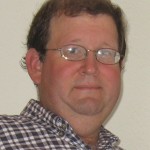 Hello. I'm Don Cudd, a teacher, freelance writer and tennis guy living in Sweeny, Texas not far from Houston and the Texas Gulf Coast.  I update this introduction to my site every year around New Year's Eve, and I'm happy to report that, for the December 30, 2017 version, I've changed the order of my above occupations; I moved "teacher" to the front of the list.  Previously, I introduced myself mostly as a freelance writer, but now that I am in the middle of my second year as a full-time teacher/coach at Brazosport Christian School in Lake Jackson, Texas, teaching is my main pursuit. In fact, I haven't done any freelance writing since about November of 2016. But that doesn't mean I'm closed to the idea of doing it again as God wills. If you've got a project you'd like to talk to me about, please do get in touch.
Now, be warned. This next sentence is a doozy.  I live my life for my (and our world's) savior, Jesus Christ.
I'm not blind or naive. I realize that makes a lot of folks nervous. That's all part of the stumbling block effect the Apostle Paul warns us about: "So then, each of us will give an account of himself to God. Therefore let us stop judging one another. Instead, make up your mind not to put any stumbling block or obstacle in your brother's way." — Romans 14:12-13
It's the devil's great irony: we Christians often lose people for God by simply talking about Him too much.
So, through many trials, God has taught me to simply not talk about Him as much as I think about Him.
But this site is one place where I unabashedly write about Him and all the glorious, victorious ways he has moved in my life. I consider the Spiritual Encouragement category the most important  — even though, yes, I have more or less buried it at the bottom of the list to the right. (I believe that's in keeping with God's great marketing strategy). That's the section I update most often, and it's the one I'm really hoping you'll read — and share.
I pray you won't let my faith scare you away. God intends it to be an inspiration.
Thanks again for stopping by!  Let's stay in touch! Click the contact link above (or just comment on an article). You'll see I'm pretty big on getting back fast to interesting folks like you.